---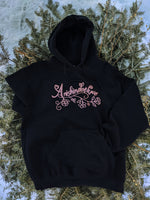 Be proud to be an Anishnabekwe, because you should be. We are mothers, daughters, sisters, grandmothers, wives & aunties. And that is  something to be very proud of. This hoody truly feminine and this design is so sparkly. 
Color: black
*This is an original design by Diamond Phoenix Creations
Please inquire when ordering a size that goes beyond a 3XL. All sizes are in unisex sizes.